How Do I Get Started?
1. Visit Denton Taekwondo Academy anytime. You are invited to visit the school and participate in 3 Free classes, with no obligation to buy anything or pay any money. Just call us or complete this request form and an instructor will contact you. Parents and friends are always welcome to watch classes. This is an opportunity to see the facility and meet other taekwondo students. We will answer any questions that you have and we will also outline our programs and prices for you.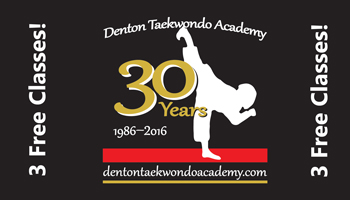 Denton Taekwondo Academy is located in Stonehill Center. It is convenient to the interstate, just north of Hwy 380/University Dr. next to Rose Costumes. Our address is 5800 I 35N Ste 507, Denton TX, 76207. Please arrive at the school about 10 minutes before class and wear loose-fitting, comfortable clothing.
2. Enroll. Enrollment is simple. You pay the enrollment fee and the first month's tuition, and fill out a small information form. You get a FREE uniform when you enroll. We don't do "sessions" -- anyone can start any time. New students join the school every week. Everyone progresses at their own pace. There is no contract to sign; you pay tuition monthly. Please also ask about our special family rates.
3. We look forward to meeting you and getting started! Request 3 free classes to begin your journey to Black Belt!